Hello! It's so nice to meet you!
My name is Sara and am lucky enough to be a newborn photographer. Over the years I have photographed more than 200 babies in addition to having my own, and I will never take what a cool job I have for granted. My goal is to help you have a tangible way to remember your own journey into parenthood.
Nothing is more magical than welcoming a new baby into your family. The tiny, delicate fingers and toes; the precious, soft skin; the certainty that this is a love unlike any you have known. You are certain that your life will never be the same. These moments pass so quickly. It is a privilege for us to preserve this special milestone for you and your family to remember forever.
Everyone who has been a parent knows that those early days go by in the blink of an eye. The things you treasure so much – the smell of a baby's skin, the feel of his or her little body cuddled against yours – become distant but cherished memories as your children quickly change and grow. Let us be there at the beginning of your little one's journey to capture this time of beauty and innocence in professional photographs that you and your loved ones will treasure.
What type of session is right for you?
We offer two distinct types of sessions. If you want to stay in your home, then we do a lifestyle session which is less posed, casual and more of a celebration of your new life with your baby. The studio session is more traditional, with props, backdrops, our beautiful bay windows and the access to my full closet. Read more below to decide which session is right for you!
In-Home Sessions
In-home sessions are a hybrid of both posed newborn and lifestyle sessions, and are great for families who want me to come to them. I will bring a mobile studio including a minimal number of props and lighting for baby led posed shots of your baby. Props can include baskets, bowls, wraps, outfits, hats and headbands. The family part of your session is more lifestyle based using your home (couch, yard, beds, etc.) as the backdrop. We focus more on the everyday connections with minimal posing.
Studio Sessions
Studio sessions are my favorite! The studio is in a beautiful Cow Hollow Victorian, and we'll have access to my entire arsenal of clothes, props, backdrops and the most gorgeous bay window. Unlike home sessions, you don't need to tidy anything up or worry about the amazing amount of baby gear that consumes your home. The studio gives us the ability to have multiple set ups ready to go, beautiful studio AND natural lighting, warm and toasty temps for your little one. You can sit back, have some coffee and a snack, and watch me work my magic with your baby. Studio sessions include both full and mini sessions.
Why should you hire a professional photographer?
A professional's unique, artistic vision can make the difference between a cute picture and a breathtaking heirloom. You have a lot to worry about at this busy time in your life, and our experience working with newborns ensures that the experience will be as stress-free as possible for your baby – and for you. In addition, our expertise in posing newborns, using props and retouching images provides value you'll see in every frame as you select from among the prints, albums, baby announcements and other products we offer.
Chances are, your baby has been bombarded by amateur photographers since the moment he or she was born. With so many photos being taken by so many people, you might wonder why you need to spend the time and money to hire a professional photographer. The simple answer is that photography is an art form, and professional photographers are artists with skill, experience and training in their field. While it's true that anyone can take a snapshot, don't leave this very important assignment up to a grandparent or a sleep-deprived dad.
Professional photographers are artists with skill, experience and training in their field.
My experience working with newborns ensures that the experience will be as stress- free as possible for your baby.
Using props and retouching images provides value you'll see in every photograph.
The Newborn Portrait Process
We know that once your baby is born, you'll have a lot on your mind, and selecting a photographer might not be first on your list. That's why it's best to book your baby's photo session between two and four months before your due date. Once your little one makes his big entrance, let us know the news, and we will coordinate with you to choose a day for the photo session. Over the years I have found that slightly older babies do better during their sessions, so I usually aim for your baby to be between 2-3 weeks old. This gives them time to learn to control their body temps a bit better and eat more at one sitting, which helps them sleep in longer stretches. It also gives YOU some time to recover, bond and get your groove as a family.
If your baby is past the 3-week mark no worries! We can still get beautiful portraits. Just keep in mind that older babies tend to have more awake time, so instead of sleeping shots, we'll get more of those beautiful eyes.
Maternity Sessions
This is such a unique and special time in your life, maternity photography is the perfect way to tastefully record this moment so you can remember it always. In addition to your individual portrait, you may want to include images of you with your partner and your children. The best time for a maternity photo session is at 32-35 weeks of pregnancy. I personally believe the bigger the better, but of course, you still need to be comfortable to sit or lay on the floor. (Don't worry; I'll help you back up!) All pregnant ladies are different, you will know at what stage you will be most comfortable.
Full disclosure: I was NOT one of those magical, fairy creatures that glowed during pregnancy. In fact, as excited as I was to become a Mom, the only reason I glowed was because I was sweating so much! :) Even not feeling my best, one of the best decisions I made was to get maternity photos done. I absolutely cherish them! It's such an important but fleeting time in your life, and if you don't take the time to document it, it will pass you by before you know it. Book both a maternity and newborn session and save!
2019 Portrait Collections
Newborn Signature Sessions
All sessions include a 25% deposit to secure your date. All packages include BOTH digital images and a print credit for you to use so that you make sure your photographs get a place of honor in your home.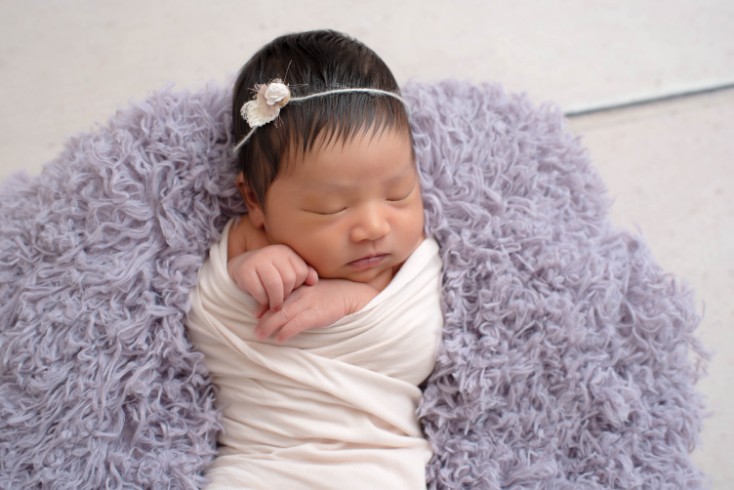 Signature Studio Session - $900
What's included:
-2-3 hour session at the studio
- ALL images including black and white via download
-$100 print credit with options to purchase more
-includes access to all props and outfits
What's included:
-2-3 hour session at your home
-ALL of the images in your gallery via digital download and custom flash drive
-$100 print credit with options to purchase more
-Posed and lifestyle images including minimal props - your home is the set!
Studio Mini
Session - $500
What's Included:
-1 hour session in the studio (Tuesdays, Wednesdays, Fridays)
- 10 digital images via download
-$30 print credit with option to purchase more
-Access to all props and outfits
Petite Maternity Session Add-on | $375
60 minutes on location and/or our Cow Hollow studio

All photos in your gallery via download, high resolution and completely retouched
Studio Mini Maternity Add-on | Complimentary
25 minutes in our Cow Hollow studio

5 images via download, high resolution and completely retouched
What if you wanted to document the entire journey? From that beautiful baby bump all the way to the end of that first year. If that sounds like what you're looking for, I have an exclusive plan just for you! The Baby Plan is a package that includes 4 sessions of your choice within 12 months with options including maternity, newborn, 3 months, sitter and one year. At the end of your baby's first year, we will design a beautiful, custom photo book with your favorite images from each of your sessions so you can remember this sweet time of your life forever.
**Payment plans available**
Baby Plan members get:
All images in your gallery via download and USB

15% off all sessions with Sara Jennings Photography for life!

$100 print credit for all sessions

Custom designed photo book with your favorites from all your session at the end of the year

Priority scheduling and flexible rescheduling

First dibs on all mini sessions throughout the year

20% off all products and prints (including custom designed photo books and wall art)
I only take 5 Baby Plan members a year to make sure I have the ultimate flexibility and service, so send me a note to get more information!